Asparagus season is in full swing here in the NYC region. I have been buying it and cooking it like crazy. I made this recipe for Baked Asparagus a few nights ago and it was a big success! Chris and I ate the whole batch and I bought more today to make it again. It only requires a few ingredients and it's pretty low maintenance once you assemble everything in the baking dish.
Asparagus is on almost every superfood list, so I'm happily eating it several times a week this spring. Asparagus has numerous anti-immflammatory and antioxidant properties that reduce diabetes, heart disease, and certain types of cancer. It is also a rich source of B vitamins, fiber, protein, and certain minerals such as zinc and magnesium. It is best consumed within 48 hours of purchase in order to receive more nutritional benefit.
Eater's Note: If you make extra (and actually have leftovers) it tastes delicious the next day eaten cold or at room temperature.

Baked Asparagus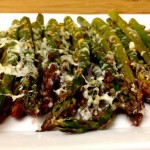 Ingredients
1 bunch Asparagus - washed and trimmed (see notes)
1 Lemon - juiced
¼ cup Chicken or Vegetable broth
1 tbsp Olive Oil
¼ finely grated Pecorino or Parmesan cheese
Sea Salt
Instructions
Preheat oven to 350.
Arrange asparagus in a baking dish and pour lemon juice and broth on top.
With a kitchen brush, brush with olive oil and sprinkle with sea salt.
Cover baking dish tightly with foil and bake for 20min until asparagus is tender (you can easily insert a knife into the thicker part of the stem).
Remove foil and sprinkle cheese on top.
Set oven to broil and put asparagus back in until cheese is melted and tips are beginning to brown (about 5 min).
Notes
To prepare asparagus, begin by cutting the last inch to inch and a half off the bottom (this tends to be really tough and unpleasant to eat). This is easy to do with a big knife while asparagus stalks are still bundled together. To wash asparagus, let them soak in a large bowl with cold water for a few minutes. Then gather them up and swish them tip side down in the water to shake loose any lodged grit. Sometimes asparagus bought fresh from the farm comes with all of the dirt sill attached.