Dandelions are most commonly thought of as a lawn nuisance, but did you know they are one of the most nutritious greens you can eat? My road to loving dandelion greens has been long. They are quite bitter, and not for the faint of heart (this is coming from someone who lives for arugula). But because they are so good for you, I usually buy a bunch every spring, try to disguise them by combining with salad greens and forcing them down. Until this spring.
Now I love them. And this recipe for Dandelion Greens with Lemon and Parmesan is why dandelion greens can finally be admitted to Must Taste Good!
As with many of the serious green leafies, such as kale, collards, mustard greens, if you are going to eat them raw think CHOP and MASSAGE. A rough chop makes them much easier to eat, and massaging (you literally massage the dressing into the leaves with your hands) induces a chemical transformation that will reduce bitter flavor. (See a related post on massaged kale salad).
The health benefits of dandelion greens are astounding. Here is a summary (for more, check out this article).
Dandelion greens are a rich source of minerals such as calcium, iron, zinc, potassium, and vitamins C, A, D, and B complex.
Dandelion greens are a recommended food for pregnant women because of all the nutrients they contain.
Dandelion greens are shown to have a mild diuretic effect which can help cleanse the body's kidneys and urinary system, lower blood pressure, and even help reduce fluid retention during PMS.
The diuretic and detoxifying properties of dandelion greens have been traditionally used to cleanse the liver, as well as treat constipation, acne, headaches, eye problems, gout, and fatigue.
Dandelion greens are also brimming with antioxidants which have been shown to contain anti-cancer properties.
Dandelion Greens Salad with Lemon and Parmesean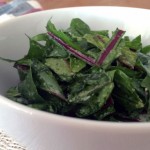 Ingredients
1 bunch dandelion greens
[about] ¼ cup lemon vinaigrette dressing*
¼ cup freshly grated parmesan cheese
Instructions
Wash and dry the dandelion greens (if the end of the stems look tough, remove the bottom inch).
Prepare the lemon vinaigrette dressing.
Roughly chop the dandelion greens (this will make them easier to eat).
Transfer the greens to a large bowl, add the vinaigrette a little bit at a time, while with clean hands massage the dressing into the leaves.
Add parmesan cheese (I like a lot, but you can use less than ¼ cup) and toss to combine.
Notes
*The amount of dressing you use will depend on the amount of dandelion greens you have in your bunch. Adding the dressing a little bit at a time will prevent the leaves from becoming too saturated. Massage the dressing in until the leaves are bright and shiny and reduced by about half (shouldn't take more than a minute).
Sources:
http://www.naturalfoodbenefits.com/display.asp?CAT=2&ID=120
http://www.med.nyu.edu/content?ChunkIID=21667
http://www.nutrition-and-you.com/dandelion-herb.html