I love making frittatas for dinner because they are quick, easy, and a great way to use leftovers in a new way. For this frittata with kale, tomatoes, and ricotta, I used leftover sauteed kale, finely chopped, tomatoes from my mom's garden, plus a little ricotta for a creamy bite, and some chopped parsley for garnish. For dinner, I like to serve it with a side green salad and roasted potatoes.
Frittata with Kale, Tomatoes, and Ricotta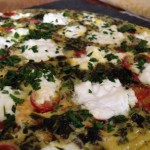 Ingredients
6 eggs
1 cup chopped sauteed kale
1 cup chopped tomatoes
½ cup ricotta cheese
2 tbsp milk
sprinkle of sea salt and pepper
½ tbsp butter
½ tbsp olive oil
few tbsp finely chopped parsley (for garnish)
Instructions
Preheat oven to 350.
Whisk eggs, milk, salt and pepper in a large bowl.
Heat oil and butter in a 8 inch skillet over medium high heat.
When the oil and butter mixture is hot, but not burning, add the eggs and lower heat to medium.
Resist the urge to touch the eggs once they are in - you want them to set.
Wait a few minutes for the edges to bubble and begin to set, then add the kale, tomatoes, and ricotta in small, scattered spoonfuls.
Transfer from stovetop to oven and cook for 7 - 10 minutes until eggs are set. To test if the eggs are done, shake the skillet - if the eggs wiggle even a little bit - back in the oven until they are completely set.
Sprinkle with fresh parsley and cut like a pizza to serve.