This delicious soup is courtesy of Harvest Eating – a great website with tons of seasonal recipes. The recipe is simple, and the result is a warm and comforting soup, plus it's a great way to use up a lot of kale. I have made this with both pastured pork chorizo sausage, turkey and chicken chorizo sausage, and all turned out well.
Cook's Note: A friend gave Chris and me Cuisinart's 8 Quart Stockpot
as a wedding gift and told us in the note that it would become our favorite pot to use for cooking. It's the perfect size for soups and stocks, and we even use it for pasta. I've found that its high sides are ideal for sauteing greens, like kale, because it keeps them from jumping out of the pot as they cook down.

Kale, Chorizo, and Potato Soup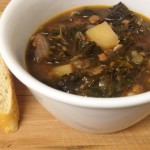 Ingredients
2 links chorizo sausage - removed from casing
3 russet potatoes or yellow potatoes, 2 quartered and 1 diced into ½ inch cubes
1 bunch kale, washed, removed from stem and torn into smaller pieces
1 medium yellow onion, chopped
1 or 2 garlic cloves, minced
1 quart chicken stock
1 quart water
1 to 2 tbs extra virgin olive oil
salt to taste
pepper to taste
Instructions
Cook chorizo sausage in large soup pot over medium heat until well browned, drain on paper towels and set aside.
In same pot over medium heat add oil, garlic and onions, saute for 5 minutes.
Optional step - add ½ cup of wine to deglaze the pan - use a wooden spoon to scrape up the delicious chorizo still stuck to the pot.
Add chicken broth, 2 potatoes (quartered), and kale, then cover and cook on a slow boil for 25 minutes until potatoes are soft.
Mash potatoes up (with a potato masher or back of a slotted spoon), then add 1 quart water, previously cooked chorizo and potatoes diced.
Cook for 15 more minutes until diced potatoes are tender.
Season to taste with salt and pepper.
Notes
I like to serve this soup with crusty bread and cheese (raw milk Manchego is delicious).