I woke up today feeling a cold coming on, and I wanted something warm, comforting, and a little indulgent for lunch. Kale Mac n' Cheese fit the bill, and also took hardly any effort (mostly because I used boxed macaroni and cheese!). I'll make this recipe again from scratch, but I thought it was a fun idea and wanted to share it with you.
Kale is such a hardy green that it can stand up to a thick and heavy sauce without wilting. The most important rule when cooking with kale, is it that it almost always eats (and tastes) better when you chop it up into into small pieces. This goes for sauteed kale, massaged kale salads, and when you add it to dishes like pasta and eggs. After I steamed the kale for this dish, I dried it in a salad spinner to wring out the excess water, and then finely chopped it before adding it to the pasta.
Enjoy!

Kale Mac n' Cheese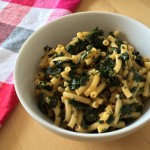 Ingredients
1 head Kale
1 6oz box packaged macaroni and cheese (I prefer Annie's Organic).
Instructions
Prepare boxed macaroni and cheese as directed.
In the meantime, rinse kale and remove leaves from stalk.
In a steamer basket, steam kale for 5min until tender.
Remove excess water by drying kale in a salad spinner or with paper towels.
Chop finely and add to pasta and cheese when ready.