This recipe is inspired by a dish my mom made recently with wild rice. The flavors are delicious, but I've never been crazy about rice. I love quinoa, however, so I wanted to try making a quinoa version with a few modifications.
If you are new to quinoa (pronounced KEEN-wah), it is a delicious little seed that has the texture of a small grain. It has a neutral taste that lends itself well to being a base for many flavorful recipes. It is also considered a superfood and is a nutritional powerhouse. For more on quinoa, read my post about why we should all be eating more of it.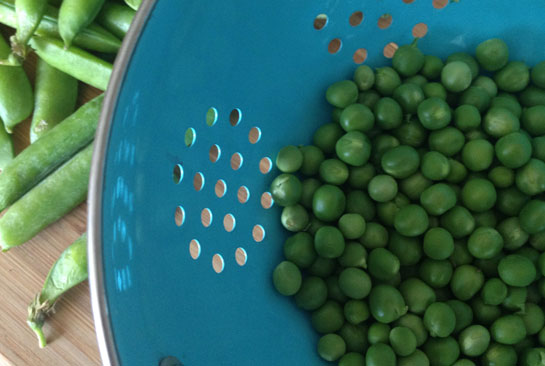 Shelling peas have just started to arrive at the farmer markets this summer. If you don't have access to fresh peas, thawed frozen work just as well. I like to shell them myself while I can – it takes longer, but I find it a relaxing task.
This recipe makes a big batch. You can halve the recipe if you don't want quite so much, but it stores and travels well if you want to make multiple meals out of it.

Quinoa with Fresh Mint and Spring Peas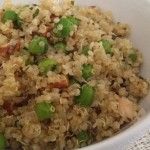 Ingredients
7-8 cups cooked quinoa (about 2 cups uncooked)
2 cups fresh shelled peas (boiled for 4 min) -- or use thawed frozen peas
1 handful of fresh mint leaves -- finely chopped
Juice from 1 orange
¼ cup virgin olive oil
1 cup chopped pecans (lightly toasted)
1 13oz can cannellini beans -- rinsed and drained
1 tsp salt (if you cook your quinoa in stock use less salt)
Instructions
In the bottom of a large bowl add the juice from the orange and salt.
Adding the oil a bit at a time, whisk the oil with the juice until combined.
Add mint, quinoa, peas, pecans and beans and combine well.
Adjust for oil (add more if mixture is dry) and salt to taste.