I love making quinoa "salads". I get inspired by which vegetables are fresh and in season – add a homemade salad dressing and possibly cheese, meat or beans  – and it becomes a perfect, complete meal. The best part about quinoa salads are that they store well for several days in the refrigerator, and travel well – making them an easy take-to-work lunch option.
About Quinoa
Quinoa (pronounced KEEN-wah) is often referred to as a grain, but technically it's a seed and is closely related to the spinach and beet families. It is used like and cooks like a grain, but it has a higher nutritional profile and cooks faster than any grain. It is an extremely high-energy food and has been grown and consumed for about 8,000 years on the high plains of the Andes Mountains in South America.
 Characteristics
Contains all eight amino acids to make it a complete protein
Has a protein content equal to milk
High in B vitamins, iron, zinc, potassium, calcium & vitamin E
Gluten-free; easy to digest
Ideal food for endurance
Strengthens the kidneys, heart, and lungs
Quinoa with Fresh Spring Peas and Vinigarette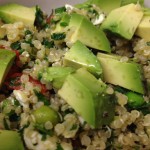 Ingredients
3-4 cups cooked quinoa (double basic quinoa recipe)
1 lbs fresh peas (about 1 cup shelled) - These are a treat if they are in season. Frozen peas, thawed, otherwise.
3 strips of Bacon (preferably pastured pork)
1 diced tomato or red bell Pepper
½ cup finely chopped parsley
1 cup small cubes of cheddar cheese (raw milk if possible)
1 recipe vinigarette
1 avocado diced, for serving
Instructions
Cook bacon in skillet until crispy. When cool, crumble into small pieces and set aside.
Shell the peas and then boil in water just until the peas float to the top (about 2 min). Then rinse in cold water to stop cooking and dry (salad spinner works great). Set aside.
Dice the tomato and cheddar, chop parsley and set aside.
In the bottom of a large bowl, prepare 1 recipe of mustard vinigarette
Add ingredients, along with cooked quinoa, except the avocado, and toss to combine. If mixture seems to dry, add a bit more olive oil.
Notes
Serve with diced avocado and a drizzle of olive oil on top. If you are using frozen peas, thaw them in warm water and then loss in a salad spinner to dry.