When health experts tell people to eat more dark leafy greens, kale is a popular choice. It can have a bitter flavor when eaten raw, so usually I saute it with a little olive oil and butter. However, I saw a recipe in Eating Well for a raw "massaged kale" salad gave it a try.
It was so amazing! A chemical transformation takes place as the leaves are massaged, and the bitterness and stiffness of the leaves completely disappears. My recipe for Raw Kale Salad with Lemon, Olive Oil, and Parmesan is below, with a few modifications.
Eater's Note: This method is also perfect for those of you who want to take lunch to work. Leftovers keep very well since kale is a hardy green. It will not become limp like most lettuces with dressing.

Raw Kale Salad with Lemon, Olive Oil, and Parmesan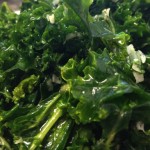 Ingredients
1 bunch kale (washed and dried with the leaves removed from stem and torn into smaller pieces)*
juice from 1 Lemon
¼ cup extra virgin olive oil
⅓ cup freshly grated Parmesan Cheese
1 clove of Garlic (finely grated or minced)
1 Anchovy (minced or use anchovy paste) - optional
Instructions
Combine all ingredients in a large bowl. With clean hands massage kale until amount is reduced by about half. Takes a few minutes. Kale will look shiny and bright green.
Notes
A extra large salad spinner,
like this one
, is an essential kitchen tool for washing and drying greens.