Roasted broccoli with olive oil and lemon is a simple and delicious side dish. It a great recipe to try with kids or people that don't love broccoli. I made a version of this for my two young nephews and it was a big success. Roasting sweetens the flavor of the broccoli, and the addition of lemon juice helps to caramelize tops of edges of the florets.
Roasted Broccoli with Olive Oil and Lemon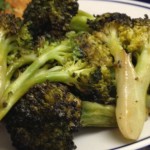 Ingredients
1 large bunch of broccoli (about 5 cups once it is trimmed into florets)
3 to 4 tbsp olive oil
half a lemon - juiced
sea salt and pepper to taste
Instructions
Preheat oven to 425 degrees
Toss broccoli florets with oil, lemon juice and salt and pepper in a small roasting pan or baking sheet
Roast 20 to 25 minutes until knife tender and tops of the florets start turn brown and crispy.
Notes
When preparing the broccoli, you want to cut your florets so that they are roughly the same size. You can cut larger ones in half or quarters. I prefer smaller pieces because they are easier to eat and also cook faster - which is good if you are hungry!