For me, roasted sweet potato fries are just as good as deep fried. I like mine a little on the burnt side, and they do burn easily, so it can be a close call occasionally. I've made these in all different shapes – fries, planks, wedges, circles – doesn't matter as long as you cut them in about the same thickness.  If you don't mind the skin, I recommend leaving it on to boost the fiber and nutritional value.
Eater's Tip:
I love experimenting with different fats. Coconut oil is a fun one to try. The flavors of coconut and sweet potato is an unexpectedly delicious combination.
Roasted Sweet Potato Fries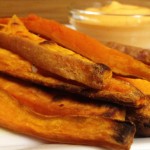 Ingredients
1 large sweet potato cut into ¼ inch strips or disks
1-2 tablespoons coconut or olive oil
Instructions
Preheat oven to 450 degrees
Cut sweet potato into equal sized pieces (about ¼ in thick). Either strips or round disks.
Line baking sheet with foil.
Toss potato wedges with oil on baking sheet and arrange in single layer. (Tip: with coconut oil, melt in small sauce pan on low heat first and then pour over potatoes and toss to coat.)
Roast potatoes for 25 min, flip, and return to oven for another 10 min.
Notes
Serve with ketchup or spicy mayonnaise for dipping. To make spicy mayo, combine 1 tsp of Sriracha (or other hot sauce) per 1 tbsp of mayonnaise.
Gluten Free, Vegetarian