It's asparagus season! At least in the greater NYC area it comes in the springtime. It is one of the first local vegetables to show itself and is a signal that abundant produce is not too far behind. In keeping with the spring time season, roasting asparagus with lemon is a light and fresh preparation. This recipe for Roasted Asparagus with Lemon is easy, fast, and low maintenance.
Roasted Asparagus with Lemon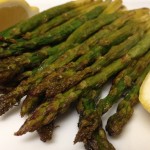 Ingredients
1 bunch asparagus - trimmed and washed (see notes)
2 tbsp olive oil
juice from ¼ lemon
2 tsp finely grated lemon zest
sea salt and pepper - to taste
Instructions
Pre Heat oven to 400.
Shake asparagus dry and arrange in a single layer on a roasting sheet with olive oil, lemon juice, lemon zest, and salt and pepper.
Roast for about 20min (tossing half way through) until you can easily pierce stems with a knife.
Notes
Soak asparagus in a bowl of cold water for a few minutes to remove any lodged dirt. Swish the asparagus heads face down in the water to clean especially well because lots of grit can get lodged in there! To trim asparagus, cut the bottom inch off each stalk. This is easy to do when they are still tied together with a rubber band - just use a big knife and cut through all at once. Also, once the bottoms are removed, you can use a vegetable peeler to remove the outer skin an additional ½ inch up the stalk. This tends to be a really tough part of the stalk that no amount of roasting will soften.