Broccoli Rabe is a beautiful green. It has cute little broccoli florets nestled between large green leaves. The cuteness factor ends with its appearance however, because the taste packs a punch. Broccoli Rabe is a member of the Brassica family (think cabbages) and it has a bite that is similar to mustard greens (of which it is a close relative). Broccoli Rabe, and all members of the brassica family, are shown to have cancer fighting properties and are particularly effective against stomach, lung, and colon cancers. With a history of colon cancer in my family, I make a particular effort and use some cooking techniques to soften the bitter flavor.
For this recipe, sauteed broccoli rabe with tomatoes, the acidity of the tomatoes and lemon juice help neutralize the bitter flavor. This would be a delicious side dish with grilled sausages and crusty bread. Or you could serve it on top of whole wheat pasta or cooked quinoa with a can of cannelloni beans.

Sauteed Broccoli Rabe with Tomatoes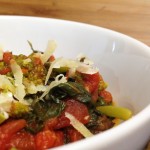 Ingredients
1 bunch broccoli rabe
1 14 oz can of diced tomatoes (look for no salt added brand) - drained
2 tbsp olive oil
2 cloves of garlic - grated or minced
Juice from ½ a lemon
2-3 tbsp parmesan cheese
sea salt - to taste
Instructions
Discard the last few inches of the broccoli rabe stems and cut the remaining into a few large sections. Wash and dry (a salad spinner works beautifully).
Heat olive oil into a large sautee pan with high sides or a pot.
Add garlic (it burns easily) and cook until fragrant (1 - 2 min).
Add (drained) can of tomatoes and bring to a simmer.
Add broccoli rabe and mix until combined.
Cover, and cook for 5 min (stirring occasionally)
Uncover and cook for another 3-5 min until some of the liquid has evaporated (stirring occasionally)
Add lemon juice and sea salt to taste.
Finish with sprinkle of parmesan cheese.
Sources: WholeLiving.com