This is a really easy recipe for steamed broccoli with basic vinaigrette. Broccoli cooks quickly when you steam it, so it's a good way to go if you don't have a lot of time. When I steam broccoli, I prefer to leave the florets with a few inches of stem, but give them a quick peel so it's easier to bite into.
Eater's Tip: Broccoli with vinaigrette keeps very well for a few days, so you might want to make a double batch of this for leftovers or to bring with you to work. It also eats well warm or cold.

Steamed Broccoli with Basic Vinaigrette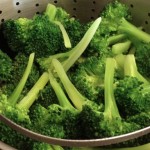 Ingredients
1 large bunch of broccoli, cut into florets and stems peeled
¼ cup vinaigrette
Instructions
Bring several inches of water to boil in a pot fitted with a steamer basket.
When water is boiling, add broccoli and cover.
Steam for 10-12 minutes until you can easily insert a knife into the stem.
While broccoli is cooking, prepare basic dressing in the bottom of a large bowl.
When broccoli is tender, transfer to bowl and toss with dressing .
Notes
When you prep the broccoli giving the stems a quick peel is an extra step, but it does make a difference. When you roast broccoli the outer part of the stem it gets very soft, but it when you steam it, it remains tough and hard to bite into. If you have the time, it's worth it - especially if you are serving to skeptical kids (or adults)!