If you are like me living in the NY/NJ area – the tomatoes are in full swing in late August. My mom's garden, and the Farmers Markets, are overflowing with ripe, sweet, and beautiful tomatoes in all colors and shapes.
It's hard to resist buying buckets of them, but once you get them home, finding creative ways to use them is a challenge. A tomato, mozzarella, and basil panini is a simple sandwich, and when it's made with ripe tomatoes from the garden, it is close to perfection. It's great for lunch or a light dinner. Serve a green salad with balsamic vinaigrette (here's how) on the side and you are in business.
This recipe is for one sandwich, obviously double, triple, or quadruple if you are making multiple for your family and friends.
Tomato, Mozzarella, and Basil Panini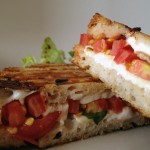 Ingredients
2 slices of bread (A good rustic italian bread works well. Ask the baker to slice it for you so you have nice even sized pieces)
3 - 4 slices of a beef steak tomato - sliced about ¼in thick
3 - 4 slices of fresh mozzarella cheese (sliced about ¼in thick)
handful of fresh Basil leaves (dried if you don't have fresh)
1 tbsp extra virgin olive oil
1 tbsp balsamic vinegar
unrefined salt and pepper
Instructions
Brush outsides of bread slices lightly with olive oil.
On one piece of the bread (dry side) add basil leaves, all of mozzarella except for one slice (sprinkle with pepper), tomato slices (sprinkle with salt), and drizzle with vinegar. Top with last piece of mozzarella and other slice of bread (dry side down).
Heat grill pan (or skillet) to medium high heat. Grill each side 3 - 4 minutes until cheese is bubbling. If you have a grill press, use it to weight down the panini. You can also use the backside of a clean heavy skillet.